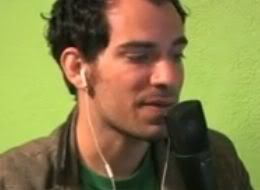 Insufficient Funds is a regular post in which we feature a free, or very close to it, piece of media that you can enjoy without overdrafting your bank account. So if you're low on funds, stay tuned to Cerebral Pop every Friday morning.
Jonathan Mann is a singer/songwriter that has decided to put himself through the ultimate test of writing a new song every single day. He puts these songs up on YouTube with a corresponding video -- sometimes just him playing, other times more creative (They're all collected
here
). How long has he been doing this? A couple months? A year? No, he is currently on day #548. A pretty impressive feat, to be sure.
While these songs are about any topic off the top of his head -- and sometimes contest entries, because, why the hell not if he's already recording songs all the time -- gamers might know him for various other reasons. He is sometimes known as
GameJew
, though I don't think he does those video blogs anymore, but you may have seen his
tribute song to EGM
after it closed, and he wrote the
theme to Area-5's CO-OP
show as well.
We've included some of his daily songs in several Video Round-Ups, but just in case you've missed out on this song a day endeavor of his, you can download all of the mp3's for whatever price you desire, including free,
right here
. While I'd recommend a billion dollars, nothing is certainly acceptable if you're a cheapskate (which this feature is designed for). I'll leave you with his brief history, as well as some excellent, recent song a day videos to help sell you.