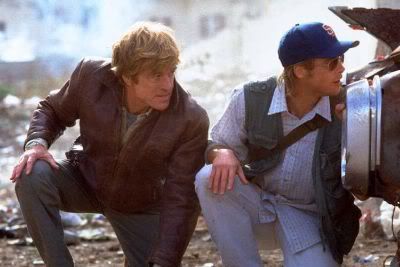 Netflix Minute is a weekly feature highlighting a title from Netflix's catalog of instant view films. If you want to spend a night snuggled up with a bag of popcorn and don't want to drive to the video store, this is for you.
I'll get it out of the way right now... Tony Scott certainly isn't his brother Ridley. While he's directed his fair share of hits, Tony simply doesn't have the "never fails" reliability of Ridley. This is especially the case in recent times, with the failures of his last two films,
Deja Vu
and
The Taking of Pelham 1 2 3
. Some might argue that this dip might continue into Scott's upcoming film
Unstoppable
, I can't help but recall the great films he's put on the screen. One particular title that slipped under my radar and has proven to be one of these successes is
Spy Game
.
Spy Game
relies a little bit more on political intrigue than gunfights and car chases. It tells the story of a CIA agent and his handler, the former of which was imprisoned on his final op which happened to be unsanctioned by the agency. As a result, the agency wants to cut him loose, essentially leaving him to his fate in a high security Chinese prison (here's a hint... certain death, perhaps?)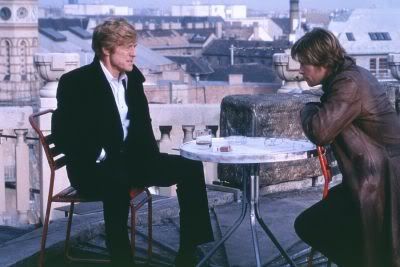 Most of the story is told through flashbacks, which play as the handler (played by Robert Redford) is interviewed for details that could be used to justify the burn notice. In turn, Brad Pitt plays the CIA agent who is exposed from recruitment to the present day. Redford's character, Muir, does most of the legwork, trying to sift through the labyrinth of political maneuvering to get his de facto apprentice back on the safe side.
Unlike most of Tony Scott's films,
Spy Game
is a bit subtle in its storytelling, not really relying upon action scenes and instead leaning on the very solid performance of Robert Redford. In fact, this movie doesn't even have the iconic car chase scene that seems to stick out in every one of Scott's recent works. Muir is a solid character, with several layers of emotional depth, a great sense of humor, and skills as sharp as a man twenty years his junior.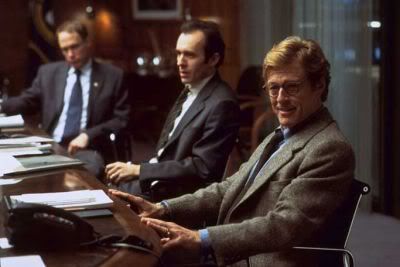 Despite my general favor for Tony Scott's techniques, he has a very deliberate formula that he simply couldn't shake for this film. For instance, each scene is punctuated by the final shot snapping to black and white, as well as a timestamp placed dead center on the screen. Unfortunately, the specific times of the events have little consequence from each scene to the next, which leads me to believe that he's simply used to this convention and shoved it into place for no particular reason. It's little niggling details like this that detract from the experience as whole and make it feel more cookie-cutter than it should.
Ultimately, I was definitely impressed with
Spy Game
. With less run-and-gun action scenes compared to some of Tony Scott's other films, this one manages to sustain the pace with a more dramatic stab at the thriller genre. If you've been turned off by recent stinkers like Deja Vu,
Spy Game
might be the flick to get you back on the Tony bandwagon.
Score: 4 out of 5
Confused about our scoring system? Read this explanation.