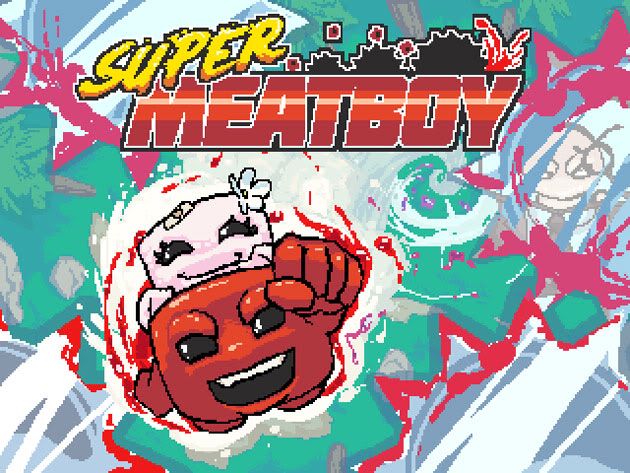 Super Meat Boy is difficult—punishing, in fact. The gameplay in this sequel to the
flash smash success
offers a simple mechanic: try, die, and repeat. However, this brutal celebration of trial and astronomical errors has recreated classic 2D platforming fun, and rises to the top of downloadable titles this season.
Dr. Fetus is still capturing, releasing, losing, and recapturing Bandage Girl in this sequel, and with that skeleton of a story, you dive into instant high-speed platforming. In the beginning, the scope may seem small: you start out with five visible worlds with twenty levels each. But you quickly learn the ways to access more than twice as many levels—each original level (in the light world) has a much more difficult counterpart in the dark world.
But the meta-fun, so to speak, comes from the extensive homages to old-school gaming that inspired the Meat Boy franchise, and also contemporary indie peers. Transported through semi-hidden Warp Zones, you visit other pretend iterations of Super Meat Boy that mimic the art, music, and graphics of old NES and GameBoy games like Castlevania. On that same front, you can access glitchy negative levels (World -1, -2, etc.), the intros to which are crafted to look like you didn't clean out your cartridge before you popped it into your game machine.
Furthermore, you can earn a bevy of other playable characters from famous indie titles like the Bit.Trip series, Alien Hominid, and I Wanna Be the Guy, all with their own little special power. And I do mean little—Gish can stick to walls, Commander Video can hover for a second—but such a subtle change makes a huge difference when the levels require extreme precision and perfect handling of your character. In other words, each character might not
be
that different, but they certainly
feel
so.
The story exists for the game, unabashedly so. This is no fault of the developers; you won't miss having an engaging story. In fact, the flash cutscenes are typically funny.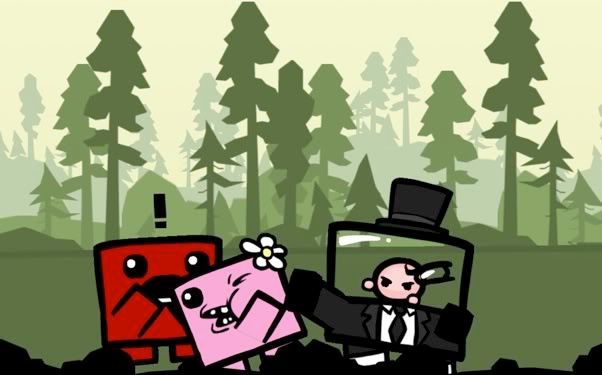 One decision I disagree with is the willy nilly placement of bandages, the game's collectible. There are twenty for every forty-something levels. So, instead of there being one per level and knowing positively that "I missed the one in level 3" or "I can definitely rule out the last 20 levels on my search for this last one," I must resort to going through many, many levels on a clueless hunt for the remaining bandages. Also, though I've heard high praise of the music, and it is perhaps a cut above the average indie game soundtrack, I was impressed enough to keep the sound off most of the time. With peers like Braid, Bionic Commando: Rearmed, and the Bit.Trip games, composers have steep competition.
For a while, I had trouble understanding the buzz about this game being "brutal." I was having fun without frustration at the supposed extreme difficulty. It turns out, the latter levels will kill you tens of times. (Not to worry, the restart times are so negligible that the fast pace of the game never has to slow down.) But that is why you play: to perfect the subtleties of the controls—over time—so you can perform daring 3/4-screen leaps, fall precisely between to giant saw blades, and catch the wall just before a pile of salt destroys you. And for the price, I have certainly gotten my time and money's worth.
Score: 4 out of 5