It wasn't until October of last year -- when I gave a copy of the series' first book to my mother as a birthday present -- that I became familiar with Stieg Larsson's 'Millenium' trilogy.
After she told me about "some Swedish crime writer" who had become a phenomenon in Europe -- and whose books were just starting to gain great success in our country, Mexico -- a quick Google search on the topic led me to an
interesting article
on The Washington Post's website. Reading it left me with no doubt regarding which book I had to get her. Listening to her talk about the book afterwards left me with no doubt about getting a copy for myself.
It's been 5 years since Larsson's first book (
The Girl with the Dragon Tattoo
) was released to an unsuspecting Swedish audience -- under the very different name,
Men who Hate Women
-- but only now has the phenomenon it started reached its peak. This year, Larsson -- who, sadly, passed away before the first novel's release -- became the first author to sell
over 1 million Kindle books
and is well on his way to becoming the
biggest selling translated writer in history.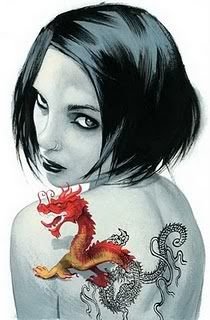 This image was done by an artist called Fernando de Vicente and it's called "Lisbeth Salander debe de vivir."
The books, which follow out-of-place, goth, hacker antiheroine know as Lisbeth Salander (and his partner in crime journalist Mikael Blomkvist), have in fact had such success in the U.S. that this year -- like grown-up versions of Harry Potter or Twilight fans -- many American readers imported their copies of the trilogy's final book from the
U.K. and other countries
before it was officially published stateside on May 25.
And it doesn't stop there. The Swedish film adaptations of the series have had enough success in both Europe and America over 2009-2010 that they managed to get Hollywood working on their U.S. adaptations already. The first one, which will star Daniel Craig and Rooney Mara as Larsson's unusual detective team, is being directed by none other than David Fincher, is slated to hit theaters on
December 2011
.
Thus, in 2010, the 'Millenium' trilogy has managed to imprint itself into pop culture like the ink that draws the dragon on Lisbeth Salander's back.
If you wish to read more about Stieg Larsson and his books, be sure to check out these great articles:
"The Afterlife of Stieg Larsson"
by Charles McGrath on The New York Times
"Stieg Larsson: the man who created the girl"
by Lasse Winkler on The Telegraph UK