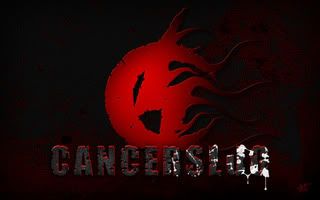 If you were a subscriber to The Monthly Music Wrap-Up podcast, you'll probably remember me playing some
Cancerslug
in October in lieu of the pretty awful new
Misfits
album. Their frontman,
Alex Story
, is spreading himself as far across the horrorpunk genre as possible; fronting not only Cancerslug, but his solo project
Alex in Ash
, and various other side projects that I can't find much info on. Oh yeah, and long-time Misfit's guitarist Doyle also made him the singer and lyricist for his horrorpunk super-group
Gorgeous Frankenstein
; and with good reason. In my mind, Cancerslug is keeping horrorpunk alive, while a
Jerry Only
-fronted Misfits and the slew of copycat bands are just cheesing it up more and more everyday.
But if you feel like you're behind on Cancerslug's impressive 12 album back-catalog, don't worry. They've just re-pressed every one of their previous albums and put them back up for sale in
their store
. If I may make a few suggestions;
Book of Rats
is one of my all-time favorite albums,
The Beast with Two Backs
is the first CS album I heard and always a classic,
Tales of a Butcher
is their most recent with many remakes of older songs, and the
UnNameable EP
is very well produced and probably one of their heaviest.
You can sample all the songs right on the site, or hit the jump to sample some of my favorites, as well as check out the dates for their upcoming US tour.
Within Her Skin, from Book of Rats
Throat Ripper, from UnNameable EP
Cancerslug - Slugcult Rising Tour 2012
MARCH
24th Huntsville, AL - Blackwater Hatties
APRIL
6th Wilmington, NC - Arabian Nights Hookah Lounge
7th Raliegh, NC - Divebar
9th Norfolk, VA - The Jewish Mother Backstage
10th Mcadoo, PA - The Strand
11th New York, NY - St Vitus
12th Wallingford, CT - Cherry St. Station
13th Providence, RI - Providence Social Club
14th Boston, MA - Midway Cafe
15th Providence, RI - Firehouse 13
17th Buffalo, NY - Moose Lodge (North Towanda)
20th Pitts, PN - 31st Street Pub
21st Chicago, IL - Sludges
22nd Covington, KY - The Madison Theater (5 mins from downtown Cincinnati)
23rd Louisville, KY - Baxters
24th Indianapolis, IN - Indys Jukebox
27th Texarkana, TX - The Roadmap
28th San Antonio, TX - Zombies
MAY
2nd El Paso, TX - Lipps
3rd Phoenix, AZ - Libations