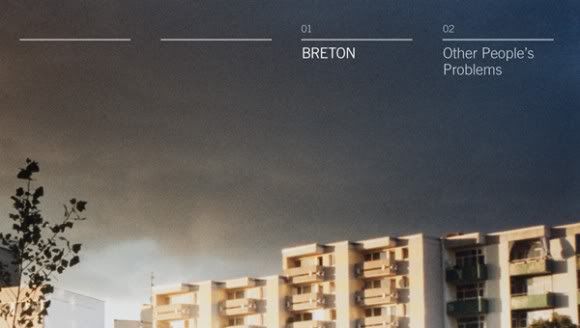 Blanket Rule --
the
free 5-track EP
from UK-based electronic act
Breton --
was a good teaser for what was to come, but it was a bit disjointed. And that made sense, given the band's self-described penchant for chopping up and mixing musical genres like they were cooking you a wonderful audio stew. It didn't bother me on the EP, because it was a free EP from a brand-new band, but I worried that this would carry into their full-length and hinder it. It did, but somehow it works this time.
Other People's Problems
runs the gamut of musical styles, but it all blends together quite well. It feels like a variety of genres were fed through a filter and infused with Breton's sensibilities. String instrumentation is cut up and turned into a whole new beast, and horn tracks are morphed into an epic beat that trump whatever drums might have been used in any normal situation. It's almost fascinating when you stop and attempt to discern the origins of what you're hearing at the moment.
In that way it is a bit of a "grower", though. There aren't any tracks that sucked me in on the first listen like
Ordnance Survey
did on their free EP, but after repeated plays several tracks began to rise up. As you get to know the songs better, you start to spend each listen picking apart different sections of the tracks, discovering just what is actually making those sounds.
At first,
Edward the Confessor
was my clear stand-out, but then
Interference
took center stage. After that I grew fond of the grimy electronic background groaning that kicks in halfway through
Oxides
, catapulting that song to a much higher place in my heart. Not to be left out, the sheer onslaught of sounds coming at me during
Ghost Note
began to separate and make more sense, revealing quality I'd previously overlooked.
Before I knew it all the other cuts had grown on me as well. The slow-building beauty of
2 Years
, the steady but enjoyable danceability of
Pacemaker
and
Electrician
, the borderline rock-song chug of
Wood and Plastic
; The entire album had met at a thoroughly enjoyable level inside my brainspace.
Honestly, if I'd written this review after just one listen I might have given it a middling score. After several listens I was leaning more toward above average, but now that I've slacked on getting this review written sooner and have gone through the album a good 10-15 times, I'm willing to say it has become fairly well cemented in my music collection.
Don't worry, Breton hasn't had me chained up in a basement so long that I've developed Stockholm syndrome, I just think their particular brand of chopping and cutting things up and forming them into new sounds requires a bit more time. Once you've dissected the songs a little better in your head, the details come together and you appreciate them more.
Purchase it here
.