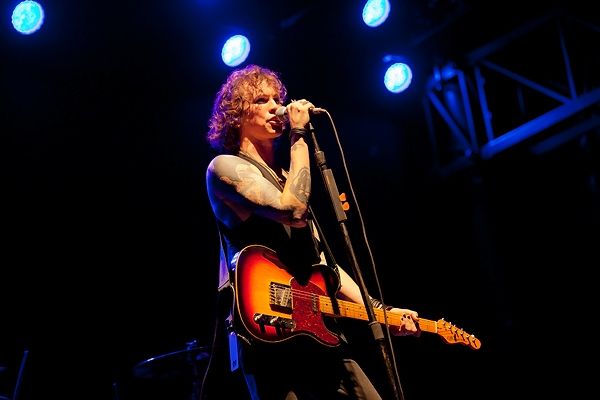 My day job is that of a lowly bumper buffer in a factory located in my small, midwest town. Sometimes my (entirely male) coworkers and I will kill the monotony with unbelievably childish antics and games of "Would You Rather" or "What Would You Do?". One of the scenarios I presented once went as such: "You've been with your wife for 20+ years; Everything is perfect; You love her immensely and couldn't be happier. Then she admits she wants to become a man. Do you stay with her?"
For some reason I was kind of taken aback by the amount of coworkers who adamantly said no. That is, all of them. I was the only one who said I'd stay. And while I was pretty sure I meant my answer in the hypothetical situation I'd made up, I couldn't really be sure what I'd do unless it actually happened. Little did I know that at the same time I was justifying myself to my sexually insecure coworkers, the lead singer of one of my absolute favorite bands was making some changes that would become the closest I might ever get to a real-life test of my reaction to such a prospect.
Unbeknownst to me, Tom Gabel of
Against Me
had come out as transgender via a
Rolling Stone interview
and was beginning her journey toward becoming how she'd always felt. Tom was now Laura Jane Grace, and that revelation messed with my head a little bit more than I'd ever expected from something like that.
The Internet is full of plenty of ignorant thoughts and opinions on the subject, of course, but let's ignore those. That's not where I'm going here. I'm an open-minded person and have no desire to condemn anyone for who they are. Still, while I never had any amount of intolerance toward transgender people, I suddenly realized I knew very little about the 'T' in 'LGBT'.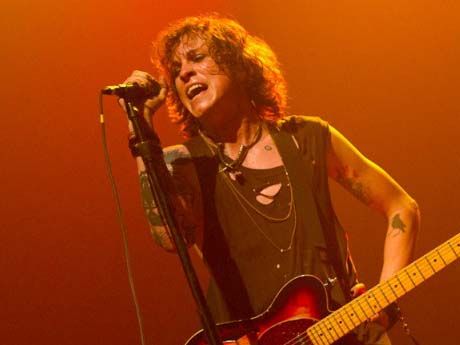 This was the closest I'd ever been (and might ever come) to knowing a transsexual. While I don't actually know Laura, I've been a fan of Against Me for a long time. I'd seen them perform in person multiple times and had watched countless videos of them. I'd seen transsexuals before, but I never knew any of them to that extent, and before their journey had even begun. I couldn't really wrap my head around how strange it might be to watch that transformation play out over the course of several years in videos, on albums, and at concerts.
I've written before about how I encourage and desire growth and evolution in the music of bands I enjoy. An alarming number of "music fans" these days are ready to spout off vitriol the second they hear a band they enjoy try something new, but I've never been that way. Against Me is one of my favorite bands because they've matured so much, but I've been on board for it every step of the way. I've spent the entirety of a two-hour car ride defending their third album,
Searching for a Former Clarity
, to my sometimes hipstery-acting friend, for Christ's sake.
Honestly, I'm kind of excited to be taking this journey along with Laura as a fan. I want to read her honest and personal lyrics about the whole thing. I want to hear all the changes in her voice and singing style. I imagine that their upcoming album,
Transgender Dysphoria Blues
, will mostly be about the inner struggles that she's been going through before and during her coming-out process. Later albums might touch on social interactions, or surgery fears, and eventually, perhaps, true happiness with one's self (if she hasn't already found that). Hearing this all play out through her music is more refreshing and exciting to me than if the band had stagnated throughout the years, playing and writing about the same types of things.
I only get a little annoyed by an artist's maturation when it involves a negative change in their audience. The last time I saw Against Me they'd just started to get a lot of radio play, and the crowd was filled with teen girls who stood with arms crossed and refused to enjoy the show. This change, however, isn't adding new, awful fans; it's weeding out the bigoted and hateful ones and helping to educate those who hadn't thought very much about transgender people before.
In the last few days I've read
everything
I
could
find
about
Laura's coming out, and
transsexualism in general
. It was always a passing thing to me. A quick thought. That woman used to be a man, or vice versa. Oh, alright. That was it. I'd never stopped to think about how that felt for them and what their transformation was like. I think a lot of people are where I am. Just because someone isn't hateful doesn't necessarily mean they aren't ignorant. Not many people who don't fit into the LGBT acronym, or have someone close to them who does, likely put much thought into that 'T' and how the stories found there differ from those of the 'L', 'G', and 'B's.
Laura's bravery in coming out as transgender despite being such a public figure is likely going to inspire other scared and confused kids/teens/people to do the same so they can finally be happy with themselves. Laura Jane Grace will become an icon to those struggling to find their own sexuality. She will help the world see that gender and sexuality isn't black and white. When your mind is forming it can go toward male, female, or anything in between -- sometimes despite what your body has already decided. A positive icon and story that illustrates that fact can only help to push society along in finding acceptance of people of all types of gender or sexuality.
So, Laura Jane Grace? Keep on rocking. You're going to help make the world so much better of a place for my kid to grow up in.