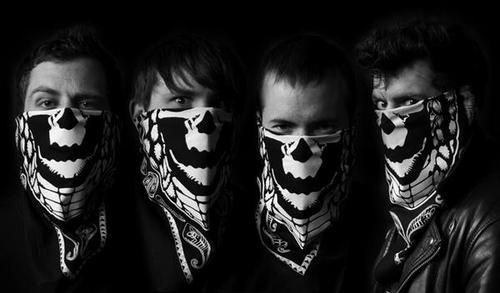 When I first heard of
Cobra Skulls
I was mostly ignoring new punk bands and hiding behind the safe, established groups I already knew and loved. But
The Lawrence Arms
vouched for them and I liked what I could find on YouTube, so I picked up their album. Now I eagerly follow their career, anticipating each new release.
So, while the announcement of a new single might not be much, it means a new LP is coming, and that's exciting. "Eagle Eyes" features two b-side tracks, and will be released October 9th, via
Fat Wreck Chords
. Hit the jump for the band's tour dates, both as the headliner and as support for
The Riverboat Gamblers
.
09/21/12 Santa Cruz, CA -- Blue Lagoon w/ Holding Onto Sound, Tater Famine
09/22/12 Anaheim, CA -- Juke Joint w/ Holding Onto Sound
09/24/12 Las Vegas, NV -- The Bunkhouse Saloon w/ Holding Onto Sound, The Serouslys, The People's Whiskey
09/25/12 Flagstaff, AZ -- Bighouse w/ Holding Onto Sound, Them Savages
09/26/12 Albuquerque, NM -- Gasworks w/ Holding Onto Sound
09/28/12 San Antonio, TX -- Ten Eleven w/ Holding Onto Sound, Sans Faith
09/29/12 Austin, TX -- The Mohawk w/ Holding Onto Sound
09/30/12 Houston, TX -- Walter's w/ Holding Onto Sound
10/02/12 Ft Worth, TX -- 1919 Hemphill w/ Holding Onto Sound, Arliss Nancy, Lost Cause, Perdition
10/03/12 Shrevport, LA -- Bear's w/ Riverboat Gamblers, Death Rides the River
10/04/12 Pensacola, FL -- The Handlebar w/ Riverboat Gamblers, Scars and Sripes
10/05/12 St. Petersburg, FL -- The Local 662 w/ Riverboat Gamblers
10/06/12 Orlando, FL -- The Social w/ RIverboat Gamblers
10/07/12 Jacksonville, FL -- Jack Rabbits w/ Riverboat Gamblers
10/08/12 West Columbia, SC -- New Brooklyn Tavern w/ Riverboat Gamblers
10/10/12 Newark, DE -- Mojo Main w/ Riverboat Gamblers, Fresh Kills
10/11/12 Philadelphia, PA -- The Fire w/ Riverboat Gamblers, Fresh Kills
10/12/12 Asbury Park, NJ -- Asbury Lanes w/ Riverboat Gamblers, Fresh Kills
10/13/12 New York, NY -- The Jewel Concert Cruise w/ Riverboat Gamblers, Fresh Kills
10/16/12 Quebec City, QC, Canada -- Union Commercial w/ Riverboat Gamblers
10/17/12 Montreal, QC, Canada -- Cabaret Underworld w/ Riverboat Gamblers
10/18/12 Toronto, ON Canada -- Sneaky Dees w/ Riverboat Gamblers
10/19/12 London, ON Canada -- Call The Office w/ Riverboat Gambers
10/20/12 Hamtramck, MI -- Small's w/ Riverboat Gamblers, Wild Roses
10/21/12 Chicago, IL -- Cobra Lounge w/ Riverboat Gamblers, Wild Roses, Anger
10/22/12 Pittsburgh, PA -- Smiling Moose w/ Riverboat Gamblers, Wild Roses
10/24/12 St. Louis, MO -- Firebird w/ Riverboat Gamblers, Wild Roses
11/02/12 New Orleans, LA -- House Of Blues NO-Parish w/ Lagwagon, Riverboat Gamblers, The Lollies
Source:
Fat Wreck Chords