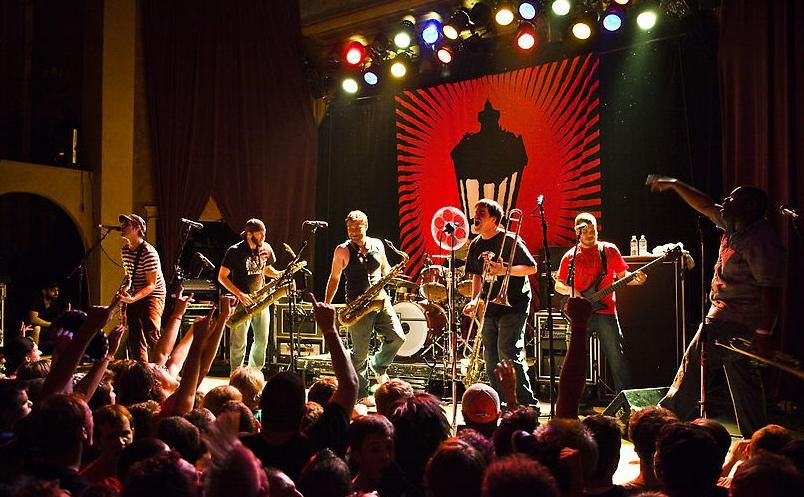 Ska-punk legends
Streetlight Manifesto
are finally set to release their third proper album, following up 2007's
Somewhere in the Between
, and a slew of cover CDs and side projects.
The Hands That Thieve
is due to come out November 6th, and they've booked a North American tour to help support it.
It's worth mentioning that this is the last album they're contractually obligated to release on
Victory Records
, the label that they've been fighting with for years. This is also the album
they've suggested
fans should either pirate or buy directly from them at a show so as not to give money to the aforementioned label.
10/17/2012 Montreal, QC -- Metropolis
10/18/2012 Northampton, MA -- Pearl Street-Upstairs
10/19/2012 Atlantic City, NJ -- House of Blues
10/20/2012 Lancaster, PA -- Chameleon Club
10/21/2012 Norfolk, VA -- The NorVa
10/23/2012 Raleigh, NC -- The Lincoln Theatre
10/24/2012 Atlanta, GA -- The Masquerade
10/26/2012 Orlando, FL -- The Plaza Theatre
10/27/2012 Gainesville, FL -- The Fest
10/28/2012 Ft. Lauderdale, FL -- The Culture Room
10/30/2012 New Orleans, LA -- House of Blues
10/31/2012 Houston, TX -- Warehouse Live
11/13/2012 Portland, OR -- Hawthorne Theatre
11/14/2012 Seattle, WA -- Neptune Theatre
11/16/2012 Salt Lake City, UT -- Club Sound
11/17/2012 Denver, CO -- Ogden Theatre
11/19/2012 Minneapolis, MN -- Mill City Nights
11/20/2012 Chicago, IL -- House of Blues
11/21/2012 Pontiac, MI -- Clutch Cargo's
11/23/2012 Sayreville, NJ -- Starland Ballroom
11/24/2012 Boston, MA -- Royale
11/25/2012 New York, NY -- Best Buy Theatre
11/29/2012 San Antonio, TX -- White Rabbit
12/01/2012 Tempe, AZ -- Marquee Theatre
12/02/2012 Santa Ana, CA -- The Yost Theatre
12/04/2012 San Diego, CA -- House of Blues
12/05/2012 Los Angeles, CA -- The Mayan Theatre
12/06/2012 San Francisco, CA -- Slim's
12/07/2012 Sacramento, CA -- Ace of Spades
Source:
PunkNews.org